Vision Flex for Warehousing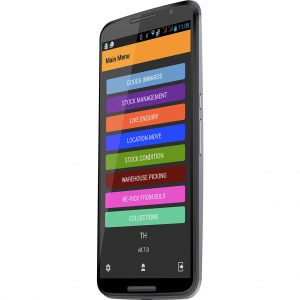 Vision Flex takes the strength of Vision Warehousing onto the warehouse floor. Whether in the form of a handheld device or fork truck mounted tablet, the solution is flexible to meet your needs.
Flex comes in two flavours: the standard version is designed for full management and operates on a tablet, and the lite version is designed for smaller mobile devices, providing a picking interface for the warehouse operators.
The design of Flex takes into account the fact that warehouse environments may not make it possible or viable to use Wi-Fi in all locations. The design is such that the unit stores the information until it can establish a Wi-Fi connection again and the service communicates between the handheld and the server.
Standard Version
The standard version is designed to perform daily routines for stock management, goods in, and goods out, without the need for a fixed base. It provides many features tailored for the target businesses and presents them in an optimised format for a mobile device such as a tablet.
Standard features are:
Goods inwards/receipting

Booking overview
Pre-advice
Location put-away
Confirm arrival & departure

Stock management

Location changes
Record losses & damages
Stock check creation & reconciliation
Stock enquiry
Location enquiry

Order management and picking

Order overview
Single order pick allocation
Bulk pick allocation & confirmation

Despatching / Goods outwards

Single pick confirmation
Bulk pick re-pick confirmation
Collections from warehouse
Signature capture for collections
Lite Version
This version is designed specifically with the order picker in mind, where the task is to ensure that the correct goods are located, picked, labeled, and removed from stock. The process is designed to be managed centrally with the order picker being allocated orders or bulk orders to be picked.
How it Works
Order picker checks device for allocated tasks
The user then chooses the start location (not all warehouses are straight lines)
Scan of location confirms picker is in the right place
Handheld displays items to be picked, which are then confirmed by scanning the stock label
Quantity is then displayed
Picker then confirms stock quantity & number of labels required
Goods are then taken to consolidation area
Final order pick confirmation carried out
Because we realise that not all warehouses are alike and this do not necessarily follow the same processes, the software can be configured to meet your requirements - for example, you may use location check digits or you may not use barcode stock labels.
Vision Flex is flexible enough to provide you with the solution you need whilst not requiring specialist hardware to do so.
Flex Voice
Flex Voice is an add-on module allowing you to integrate voice pick technologies within your warehouse.
Further Information
For more information on Vision Flex or any of our software products call us on 0330 100 4590.